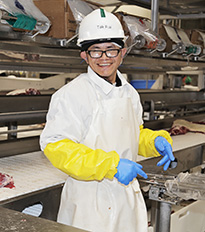 Food Safety is our top priority at CS Beef Packers! This is evident in the design of our "state-of-the-art" beef harvest facility. We focus on maintaining an environment for producing products that exceed the highest food safety standards in the meat packaging industry. Vigorous product quality monitoring, customer specifications, and USDA inspection are utilized to establish and implement meaningful standard operating procedures for the processing and distribution of our products.
CS Beef Packers operates under an approved HACCP(Hazard Analysis Critical Control Point) program. This program guides our entire process from live cattle receiving to final boxed product shipment. This plan entails a written Hazard Analysis, multiple CCP (Critical Control Point) Identification, Monitoring and Verification Procedures, Critical Limits and Corrective Actions to meet all food safety requirements.
Our meat processing facilities also have a documented Quality Control program in place at all times. This ensures that all cattle and beef products comply with the following written programs: Domestic Origin, Humane Handling, Non-Ambulatory/Disabled Cattle, Spinal Cord Removal, Pathogen Intervention Steps (multi-step system), and Carcass/Product Testing.
Other plans include: an SSOP Program (Sanitation Standard Operating Procedures), Employee SOP Program (Standard Operating Procedures) and Employee GMP Program (Good Manufacturing Practices).
CONSUMER FOOD SAFETY AWARENESS
Food Safety is just as important at your home as it is in the production and retail food chain. Here are some quick tips to make sure you and your family are safe:
Wash your hands before working with food.
Wash all plates/pans that come in contact with uncooked product prior to using it for cooked product.
Cook all ground beef items to a minimum of 160° internal temperature.
Cook the exterior of all whole muscle meats to a minimum of 160°.
Bacteria grows more readily when product is above 41°F.
Limit your product's exposure to warm temperatures.
Thaw Food Safely: In a refrigerator, under cool water or in a microwave oven. Then cook in a timely manner.